Past Featured Title
Below is a short description of a past featured book, its table of contents, bibliographic information, and a scan of the cover. This page also provides you with a direct link to Amazon.com so you may easily purchase this book on-line.
If any readers have a review, or have found this book to be particularly useful, I welcome comments, and will add them to the page. Simply click on the "Contact" link below, and drop us an e-mail.
Be sure to watch the newsletter for a listing the featured books. To sign up for direct delivery of the newsletter, click on "Newsletter" below.
Featured Title: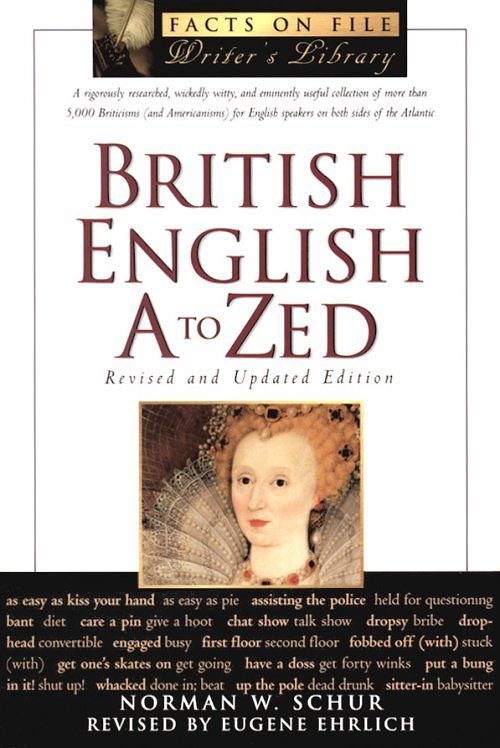 "British English A to Zed"
by
Norman W. Schur
Revised by Eugene Ehrlich
Facts on File Library, 2001
Paperback Edition
ISBN#081604239X
$18.95 (Check Amazon.com for discount amount)*
Acknowledgements
Preface
Explanatory Notes
Introduction
British English A to Zed
Appendix I--General Differences Between British and American English
A. Syntax
B. Pronunciation
C. Spoken Usage and Figures of Speech
D. Punctuation and Style
E. Spelling
Appendix II--Glossaries and Tables
A. Currency
B. Financial Terms
C. Units of Measure
1. Dry Measure
2. Liquid Measure
D. Numbers
E. Automotive Terms
F. Musical Notations
G. Slang
1. Cant
2. London Slang
3. Rhyming Slang
4. Poker Slang
5. British betting terms
H. Food Names
I. Botanical and Zoological Names
J. Britain, Briton, British, English, etc.
K. Cricket Terms
L. Connotative Place Names
M. Connotative Names of Periodicals
Index
SYNOPSIS:

If you've ever traveled to England, you have experienced the phenomenon of "I thought they spoke English here." And although Americans and Britons do speak the same language, there are many differences--enough so that you may find yourself in a spot of trouble saying something you thought completely innocent. This book explores the difference in the two languages--American English and British English. For each British term, the author gives the American equivalent (or as close as he can get.) There is also an index to look up American terms and find the British equivalent. More than useful, it's informative and fun. And easy to use!

TO ORDER THIS BOOK,

CLICK HERE!

*NOTE: Prices are current when the page is posted on the site. Amazon.com may change the pricing policy at any time.
To The Top | Back to Current Feature Page | About Literary Liaisons | Author Links | Bookstore Index | Fiction | Non-Fiction | Video Library | Newsletter | Research Articles | Reference Books | On-line Resources | RWA Chapters | Sign Our Guestbook | Contact Us | Home
This page last updated September 10, 2002
Copyright 2002, Literary Liaisons, Ltd.
Artwork courtesy of Marvelicious and
Angel's Free Web graphics